Polish Version
Our vision: We want people to live better and healthier lives thanks to trust, understanding, and engagement in science.
Our umbrella: A new mechanism that allows you to engage with and benefit from science. You decide what you want and how much time you want to invest. We offer you a tailored set of options.
Our tool: A platform that will be developed via which you will be able to join us on an exciting journey and open a gateway to a more democratic and informed future shaped by innovation and systematic exchange.
A prototype will be released by end of August 2021
The full version by December 2021
Subscribe to our mailing list to receive news on the JoinUs4Health project.
Our basis: Three population studies:
Study of Health in Pomerania (SHIP) in Germany since 1997, 8,728 participants as of xxxx (web link);
Rotterdam Study (RS) in the Netherlands since 1989, 17,932 participants as of xxxx (web link);
Bialystok Polish Longitudinal University Study (PLUS) in Poland since 2018, 600 participants as of xxxx (web link).
For SHIP, you can view available variables in an online data dictionary: https://www.maelstrom-research.org/mica/individual-study/ship
For the Rotterdam Study and Bialystok PLUS you can view a summary of data collected xxxx.
Who "We" are:
"We" from a management perspective: Project partners, representatives from the population studies and approximately 60 members of citizens, scientists, business representatives, teachers / lecturers and policy makers;
"We" from a JoinUs4Health perspective: The growing community of contributors who take part in this journey of exploration. Interim or continuous inputs welcome
Who "You" are:
"You" as citizen: Whoever you are and whatever you do, you are a citizen and thus eligible to join us (the community) if you are older than 16. Whatever personality, professional or educational background, you can become part
"You" as representative of societal groups: E.g. education community, business, policy, science, …; you may have specific interests in JoinUs4Health
Busy and recreational "You": You have little time? Offer 10 minutes and we will find options for you; you want to have a JoinUs4Health night instead of a game night? Tell us, how long you want to engage and we find options for you;
Personality of "You": You have preferences or dislike some forms of exchanges (e.g. virtual meeting)? Let us know, and we tailor solutions to your interests and preferences.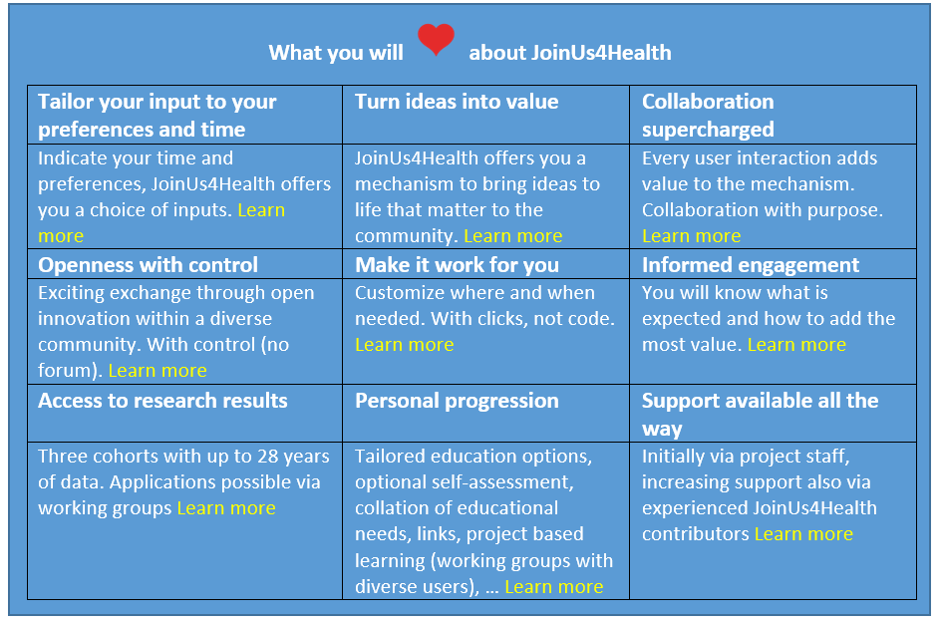 Conceptualization phase (until November 2021)

We develop the platform, education materials and guidance
We discuss philosophical aspects such as the quotes by Miguel Ruiz on the left and how they apply JoinUs4Health? What guidance and rules are needed to keep you save and comfortable? How can we bring out and nurture the best in us?
We reflect on Responsible Research and Innovation. How can we interact responsibly with each other?
Sign up for newsletter
Tailored to your interests and needs


Sign up to community
Become part of the JoinUs4Health community

Explore ways to contribute
Answer a survey of outstanding tasks and define your interests and preferences
Ways to Join Us For Health: